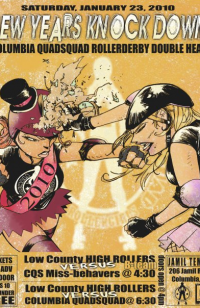 Game 1: CQS Miss B-havers 145, LCHR Bruisin' Betties 66
Game 2: CQS Allstars 129, LCHR 71
On January 23rd, our first bout of the 2010 season, CQS introduced the CQS Miss B-havers.  We have been so lucky to add so many new faces to the team that we actually now have two rosters.  LCHR brought their Bruisin Betties and Allstar teams up to Columbia for a derby double header in the Midlands.  With over 1200 people in attendance at Jamil Temple, the Miss B-havers showed the girls in pink from the Low Country High Rollers Bruisin Betties how we win!  The CQS Allstars were not to be outdone and followed the Miss B-havers with another win. Thanks so much to our sister team in Charleston for coming up!