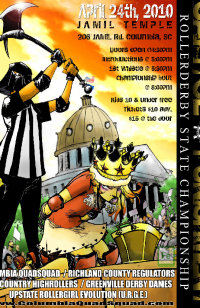 April 24th, 2010
Last year we dominated, this year we cleaned the court in a single elimination tournament!
Urge 79, GDD 44
LCHR 57, RCR 41
CQS 101, URGE 26
CQS 76, LCHR 29
With the first whistle blown at 5:30, the Upstate Rollergirl Evolution of Greenville, SC faced off against the Greenville Derby Dames.  The Greenville Derby Dames had some hard hits but couldn't quite pull the game together.   With URGE racking up 77 points, the Greenville Derby Dames with 44 were eliminated from the first bracket.
With what proved to be the most exciting match of the night, the Lowcountry Highrollers took on the Richland County Regulators.   Both teams were evenly matched with hard hitters and quick jammers.  RCR fought hard but could not come up with the 16 points needed to win the game.  LCHR scored 57 and RCR 41.
With the first two eliminations finished, the 2009 State Champion's, the Columbia QuadSquad took the court to show URGE how derby is done.  CQS loves to play with URGE's girls on an almost monthly basis in Greenville Invitationals.  It proved much more fun to play against them!  CQS won 101-26.
Only 15 minutes after conquering  URGE, CQS took the floor for the final matchup against the Lowcountry Highrollers.   The Columbia QuadSquad took home and easy victory of 76-29.

Thank you to all of our volunteers, Relay for Life, LCHR, RCR, GDD, and URGE for helping show Columbia, SC the true meaning of Capitol Punishment!