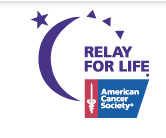 When if comes to charities, the Columbia QuadSquad puts all 8 wheels forward.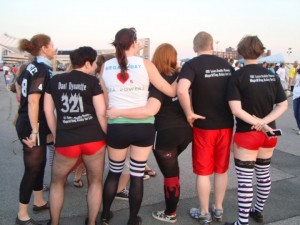 Several months back, CQS was asked to join Brandon Watts
and the Columbia Cancer Killers in the April Relay for Life.  Of course with one of our girl's pappa currently battling bladder cancer, all of CQS jumped in against the fight.  We all know or have known someone that has battled some form of cancer.  Many have been victorious and especially courageous in their fight, and from those special people, we draw our strength.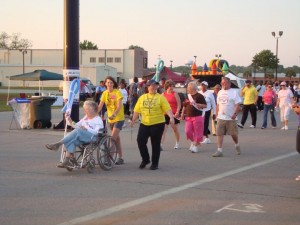 On April 16th, CQS along with many other teams, took to a different kind of track to show our support for our family and our derby family.  It was especially empowering too see so many families honoring the loss of a treasured loved one with luminaries lighting the path.  Each April at the South Carolina State Fair Grounds, Relay is held from 7pm to 7am.  One member from each team must be represented on the track at all times while other team members are responsible for raising money from participants through food, games, and various other services.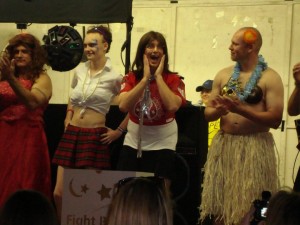 Jumping slides, Wii games, and Mocktails were available for a large portion of the night.   With a rousing game of Twister to get the energy pumping, many of our wonderful girls kept their feet moving on the track till 7am.   Special thanks goes to our very own CQS Roller Derby Queen for the night.  Not only did he look amazing in a jersey, but he also was crowned #1.   The Columbia Cancer Killers managed to raise over $10000 adding to the nearly $56, 000 raised that night!  CQS is proud to support such great charities!  Remember that a portion of your ticket purchases for home bouts goes to support charities such as Relay for Life.  So dig deep!