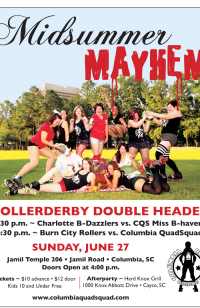 June 27th, 2010
CQS Miss B-havers 92 vs CLTRG B-Dazzlers 146
CQS Allstars 166 vs Burn City 77
With our first Sunday bout of the year, hopes were high for a double victory. The night started with a rematch of B team beauties. The Columbia QuadSquad Miss B-havers battled the Charlotte B-Dazzlers. Turner Loose, Shrew B Doo, AmsterDAM and Victoria Cross debuted for their first time on CQS home turf. After a confusing first jam, CLTRG took a quick lead when several CQS players were sent to the sin bin for penalities. Billie Evil tried to regain control of the scoring side for CQS managing to add a few points in a quickly called off jam. After being ejected for an accrual of penalities in the first half, Precision rejoined CQS as a heavy hitter for the night.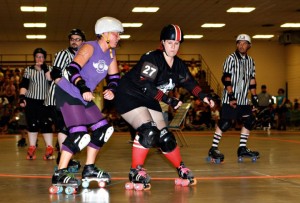 Chuck-town Bruiser had some amazing hits for the night but managed to injure her ankle in the process. Jammer Turbo QT switched roles and showed CLTRG that she could block as well as she jammed. Overall, the Miss B-havers fought hard but were unable to come up victorious. Final score 92-146 CLTRG.
After an entertaining halftime show from Homespun Hoops and a public fire safety announcement from Columbia's finest firemen, the CQS Allstars quickly took to the track to show Burn City who owns it. This, too, was a rematch for the season. After several quick jams, CQS managed to gain a considerable point lead. Beautiful Death managed a grand slam in one jam giving CQS a 10 point stretch. After several big takeouts by Burn City's Cuban Crush Her and Amyn Atcha, Crystal Cutt learned to skate low and fast and shined as THE Allstar for the night. When CQS sat comfortably at a 50 point lead, Holly Hunter gave Beautiful Death a 180 whip to send her flying around the track.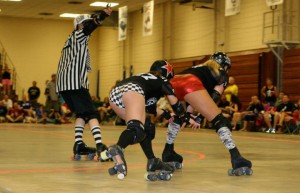 During the second half, Holly Hunter managed to pull Crystal Cutt through her legs in the infamous Hunter Cutt whip driving the crowd wild! The CQS Allstars managed an easy 166-77 victory.
Thanks as always to our FANS, volunteers, Columbia Fire Safety, Pinnacle Physical Therapy, CLTRG, and Burn City for making Sunday a special night! We look forward to the next home bout on August 22nd!
Photo courtesy of Andrew Haworth Photography