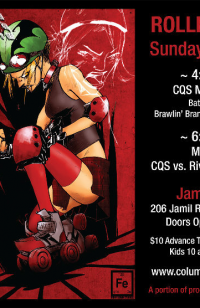 August 22, 2010
The School of Hard Blocks
We've said it for the last two months, but this weekend proved it! CQS has grown at an amazing rate! We've almost tripled in size. This weekend gave us a chance to debute some of our newest players and to bring back some seasoned vets who've been out with injuries, as well as, play a tough WFTDA team for the main even.
The Brawlin' Brainiacs coached by Blueline Bruiser took on the Blockin' Jocks coached by team captain Holly Hunter. With jammers Billie Evil, Sassy Assasin, Mal Pacino, and Margin O'Terror, the Blockin' Jocks dominated the scoreboard. Beautiful Death, Comancho, and Turbo QT were small and quick but had a hard time getting around the big blockers of the Jocks. Claudrophobia joined the Brawlin' Brainiacs for her final derby bout with CQS before moving to Gainesville, GA (Look out GA!). Claudrophobia has been with CQS for three years and has been an Allstar, a Miss B-haver, a director, a coach, and a trainer. She will definitely be missed by her CQS family. Mega M'day joined Claudrophobia on the list of last bouts this past weekend. Life sometimes takes us in different directions, it's quite unfortunate that Mega's has done the same. She will be joining her family in Florida for the next year. Mega had an amazing attitude both on and off the court handling all the secretarial duties of CQS. She will also be missed! Final score for with a victorious Blockin' Jocks was 97-54.
The main event was the event to watch! River City's Poe's Punishers from Richmond, VA drove a long way to take on the CQS Allstars. Once again the CQS Allstars continue their undefeated winning streak. The River City Rollergirls are a WFTDA (Women's Flat Track Derby Association) ranked team. WFTDA is like the NBA of derby. CQS is striving to become a part of these elite league of women. So of course, we couldn't let a WFTDA team give us a run for our money! Crystal Cutt stayed small and fast and managed to avoid almost every block projected for her. Mel Anoma fit her thin self between every wall made to become lead jammer. With big hits from the blockers, CQS gave it their all and never held back! Final score with a victorious CQS Allstars was 158-89.
To see a video recap from the Free Times, click here.