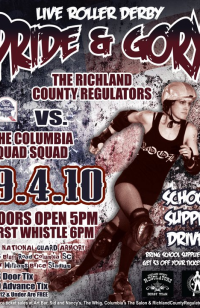 Hometown Roller Derby Showdown Promises Intensity
by James Harley, August 28th 01:10pm
If you live anywhere near the State Fairgrounds, don't be alarmed if you hear the sound of clashing bodies and cries of pain next Saturday evening as Columbia's two women's flat track roller derby teams square off in a battle for bragging rights. The Richland County Regulators will host the Columbia Quad Squad at the National Guard Armory on Bluff Road beginning at 6:00 pm.
If you're unfamiliar with the growing derby scene in Columbia, this is a good chance to see what all the hoopla is about. Both squads have blossomed from being individual teams to becoming leagues of their own as more and more competitive women are drawn to the irresistible charm of speed and violence. The cream of the crop from both sides will be represented in this highly anticipated showdown.
While both sides will tell you that the fledgling rivalry is civil, make no mistake, there's definitely some grit under that façade. Many of the Regulators are former members of the Quad Squad, and the breakups weren't all without bad feelings. Add to that a little frustration and pride, as the Quad Squad has dominated the past meetings between the two teams, and you've got a recipe for hard hitting action.
While one must favor the Quad Squad again in this matchup due to their undeniable strength (now rolling along with a 12 match winning streak and coming off a recent victory over 16th ranked River City Rollergirls of Richmond, Virginia), the growth of the sport is bringing more and more talent into the Regulators' camp and boosting their competitiveness. "We want to show that we belong here, skating beside these Quad Squad girls," notes Truck Stop, a veteran Regulator. "We've been working hard to improve our team, from practices to bringing in quality players from other teams in the surrounding region to scrimmage against us."
Though lacking the impressive overall record of the Quad Squad, the Regulators are also coming off a confidence-boosting win against the Greenville Derby Dames and hold the advantage of being the home team in the upcoming bout. But they know it's an uphill battle. "There's going to be hard hitting out of the gate," Truck Stop affirms. "To win we're going to have to slow down their jammers (the players who score points), who are very fast, shut down their recycling (a term for maintaining control of the pack of blockers), and build a good wall (of blockers) ourselves."
With media attention increasing for the sport everywhere, derby will likely continue to grow, as its live entertainment value is quite high. Since the Gamecocks will be resting and celebrating their win over Southern Mississippi on Saturday, it's a great time to go check out the new sport in town. For more information on our local teams and their impending showdown, visit their websites at www.richlandcountyregulators.com and www.columbiaquadsquad.com.