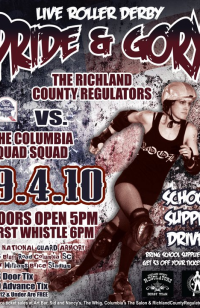 Who's got pride, glory, and the best group of roller derby Allstars? Columbia QuadSquad! This past Saturday, September 4, CQS took on the Richland County Regulators on their home turf at the National Guard Armory. The Armory was packed with CQS fans and anxious players ready to show RCR who owns Columbia's tracks. The bitter feud between CQS and RCR started years ago when several CQS players left to begin a second team in Columbia dubbed the Richland County Regulators. The Richland County Regulators train just as hard on and off the track but has not been able to bring it like CQS does.
The Allstars have been anxious all month to play these girls. Diehard fans and those new to the sport, knew that this was THE game to watch of the year. There would be hard hits, fast skaters, and impossible jammers zipping around the track. After a slow start, the game was postponed for twenty minutes at the the fifteen min mark. CQS led 27 to 20. The lighting made it impossible to make correct calls on the sun soaked gym floor. CQS had twenty minutes to regroup and take their game up a notch. Once the sun sank low enough to provide proper light to make the right calls, the game resumed. Crystal Cutt and Mel Anoma sped around the track taking the score upwards in CQS's favor. New to CQS's Allstar roster, Sassy Assassin and Fearless Fritz gave jamming their best.
With a brief intermission, the CQS Miss B-havers spilt into two teams to provide the halftime entertainment. Bruiser Barbie suffered a fractured wrist, but the red team still came out victorious.
After halftime, CQS took to the track with their game face. The hits kept getting harder and the penalties more severe. Roy G Biv was ejected from the game due to too many trips to the bad girl box. Mel Anoma managed a tremendous twenty point jam while CQS blockers held back Bex Addiction in the pack. Kim KarKRASHian ended the game with a flawless jam. CQS finished 126 to 82 continuing their yearly winning streak. Thanks Richland County Regulators for a tough bout and great afterparty! We look forward to next year!
*Team photo courtesy of Rebecca Bauer Photography