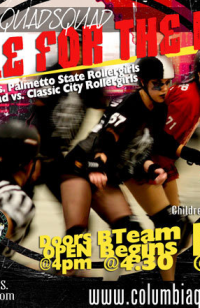 October 23, 2010 Battle for the Bra
Did you miss the Battle for the Bra? With two exciting games to watch, the Battle for the Bra was one of Columbia's best double headers this year. The CQS Miss B-havers started the night by putting on a derby clinic for both the crowd and the Palmetto State Rollergirls of Myrtle Beach, SC. Punk Blocker and Scream Weaver of PSRG gave Turner Loose and Fearless Fritz a fight for control of the pack as PSRG's jammer stayed in the penalty box. With the Miss B-havers leading by 40 points going into the second half, both teams starting loosing pack members to the sin bin. With two jams left, PSRG managed an impressive 30+ point comeback when CQS's jammer was sent to the box. Final score was 109-90 CQS.
The undefeated CQS Allstars dominated the Classic City Rollergirls of Athens, GA in a truly unmatchable bout. The Allstars' lighting quick jammers Mel Anoma and Crystal Cutt sliced through the CCR pack as if they were wearing the coveted razor blade bra trophy. CCR's Chimera did not get a break to use her cat like reflexes with blockers May Q. Panic and Brassknuckle Brandy continuely dishing out the jammer pounding. Chuck-town Bruiser ended the night with a hard hitting jam. Final score 233-61 CQS.
If you missed the game, you also missed the cause. Throughout the night, the girls of CQS auctioned off specially styled bras with benefits going to ShareOurSuzy.org, a local chapter helping women who are battling breast cancer. With over 8 bras, CQS raised over $450 on top of ticket sales for this great cause. Thanks as always to our volunteers, nsos, refs and loyal fans!