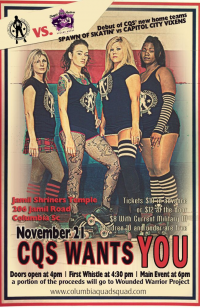 Ending a whirlwind season with a 241-59 win and a debut of two new home teams, the Columbia QuadSquad rollergirls proudly wearing their camo in support of Wounded Warriors across the nation, showed Tragic City how things are done in Columbia, SC.
The Capitol City Vixens coached by May Q Panic and Metal FElisha managed a very narrow victory against Holly Hunter and Mel Anoma's Spawns of Skatin'. With the addition of Grafik (formally of URGE and Blue Ridge Rollergirls) and Fonda Brawls (from a Colorado team), the Spawns of Skatin' put up a hard, long fight. The Capitol City Vixens welcomed Polly Hatchet (formally of the Soul City Sirens) to their roster. With several veteran skaters returning from injuries, both teams were equally matched ending the 40 minute game 88-88. With brief confusion of overtime rules, the two teams took the track for a final 2 minute death jam. Both skaters took off scoring on their first pass. Mal Pacino managed to squeeze by the Spawns for 5 points and managed to pass one more player on her second pass before being sent to the box for a fourth minor penalty. Doli Derringer kept a slow and steady pace behind the Vixen's Bloodshed Red before breaking free moments before the final whistle ending the game. Vixens win 94-93.
With a rematch in order, the Columbia QuadSquad Allstars took the track for a full bout against Alabama's Tragic City. Tragic City came out hitting hard and fast but were not prepared for big hits from Holly Hunter, Kim KarKRASHian, Brassknuckle Brandy, and Chuck-town Bruiser. Tragic's Eiffel Power and Dixie Thrash warmed the seats of the penalty box. Several Tragic City girls were ejected due to penalty surpluses and illegal procedures. By the end of the game, the CQS Allstars dominated 241-59 ending a perfectly undefeated season. All we do is win!
CQS would like to thank all of our volunteers, refs, and FANS for their continued support for the sport we love to play! We look forward to an unprecidented 2011 season with more competition and more home team support! Stay tuned to columbiaquadsquad.com.