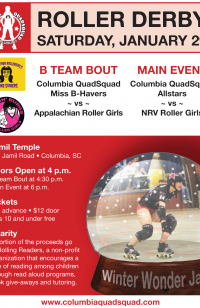 January 29th, 2011
CQS Miss B-havers 59 vs Appalachian Rollergirls 64
CQS Allstars 222 vs NRV Bruisin Burgs 73
All we do is win, win, win in 2010. Seems the winning streak continued into the season opener for 2011. With a packed house, the Columbia QuadSquad Miss B-havers fought hard against the Appalachian Rollergirls, and the Columbia QuadSquad Allstars beat the NRV Bruisin Burgs.