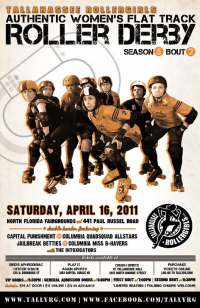 April 16th, 2011 @ Tallahassee
CQS Allstars 157 vs Tallahassee Capital Punishment 105
CQS Miss B-havers 139 vs Tallahassee Jailbreak Betties 51
Both the CQS All Stars and the Miss B-Havers brought home a victory this past weekend from Tallahassee.
Columbia QuadSquad had an amazing weekend taking on one of the toughest teams they've had to play to date. The ladies had to work extremely hard to prepare for the WFTDA Tallahassee Rollergirls. The venue had walls close to the track which made play interesting, and almost hockey-like, with skaters being hit out of bounds into the walls and immediately bouncing back onto the track. Both bouts were thrilling to watch!
The first bout saw the CQS Allstars battling it out with the Tally Capital Punishment. The two teams were very evenly matched, and the entire bout saw hard hitting action, agile footwork and a lot of teamwork. Grafik, Crystal Cutt and Mel Anoma had to be extremely quick to avoid the powerful hits of LaVoodooo and Erin Breakabitch from Tallhassee. The entire Capital Punishment lineup was extremely tough and hard-hitting, not to mention strategic. They frequently employed pack control techniques that CQS had to adjust for quickly. Tallhassee jammers like low maim and Stone Her provided a challenge for All Star blockers Holly Hunter, Roy G. Biv and Truckstop-they jammed comparable to Mel Anoma and Crystal Cutt. The All Stars were able to work together to rise above the Tallahassee Capital Punishment, but both of these great teams would feel the bout the next day.
The second bout saw just as much action as the first. The Miss B-Havers took on the Jailbreak Betties for some more derby action. Miss B-Haver jammers Beautiful Death, Sassy Assassin and Mal Pacino had fires under them all night, speeding around the track. Betties Jammers Purr So Cute and Wargasm gave the Miss B-Havers a run for their money as well. Turner Loose, Dani Dynamite, AmsterDAM, Beastie B and all of the CQS blockers had an amazing game; they worked together, implemented great strategy and hit…HARD. Betties blockers like Frozen Tundra and X-acto Babe helped to create great walls to defend against the CQS Jammers, but the Miss B-Havers were able to break them up just in time for their jammers to duck by. Tally's Foxy caused chaos in the pack as an extremely hard hitter, and took a lot of work by the Miss B-Havers to subdue.
The atmosphere, the Tallhassee fans, the awesome band at halftime and the great attitudes and hospitality of the Tallahassee Rollergirls made the weekend fun and worthwhile. Both bouts were great competition and an perfect first game for the new WFTDA Apprentice, Columbia QuadSquad.
Check out more on the Tallhassee Roller Girls here: http://www.tallyrg.com/