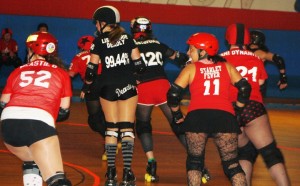 May 1st, 2011 Home
Spawns of Skatin' 120 vs. Capital City Vixens 100
The first home team victory of the year goes to the Spawns of Skatin', though the Capital City Vixens put up a strong fight.  This was a bout for a derby girl debut, with new faces like Coma Kazi, Hotrod Herbie, Starlet Fever, Jul B N Payne, and Wen Damage.
Both SOS and CCV played a neck and neck game, as the teams skills were equally matched.  Penalties are were CCV's weakness during the first half, with their jammer being stuck in the penalty box allowing SOS to score points.  With the coming of halftime the score was close, with SOS in the lead.
Patrons of this bout were treated to possibly the best derby halftime show ever seen.  With a performance by the Deadly Mal Rabbit Hunters, featuring CQS's own Mal Pacino, Rabbit Punch, Holly Hunter, and Lisa Marie Deadly serving up some hot dance moves.
The Capital City Vixens came back in the second half with a vengeance, determined to close the gap in the score.  Both teams fought hard in a suspenseful second half, but Spawns of Skatin'  managed to stay up 20 points at the end of last jam to claim a victory.