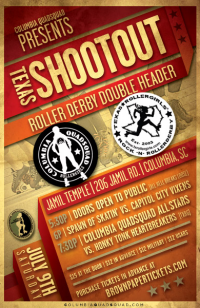 CQS is skating our second home game as an official WFTDA Apprentice league
at Jamil Temple against Texas's Honky Tonk Heartbreakers on Saturday, July 9th.
Yes – you read that correctly. The Texas Rollergirls are coming to Columbia!
Who's Texas you ask? The Texas Rollergirls are the originators of Flat Track Derby. They started the sport in Austin, Texas and it's spread to hundreds of cities around the world. Their founders revised the old school rules, designed the track, and set the standard for what a Rollergirl can be in the new milliennium. And they'll be here July 9!
So get your tickets now! You'll start off your bout evening by watching CQS's home teams – the Capitol City Vixens and the Spawn of Skatin' – duke it out in their second home team bout of the season. Then get ready as the TXRG Honky Tonk Heartbreakers take on the Columbia QuadSquad Allstars! Both are matches you don't want to miss!
Doors open at 5:30 p.m. and the first bout begins at 6 p.m. Kids under 10 are free! Get tickets in advance for $12 from any CQS skater. Tickets at the door are $15. Military and USARS card holders are $12 at the door.
Got a large group? Message us for discounted rates!
See you at the bout!