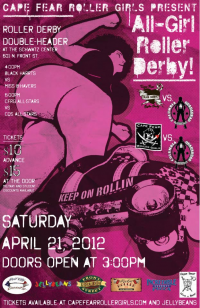 April 21st, 2012
CQS Allstars 233 vs Cape Fear All-Stars 84
CQS Miss B-havers 166 vs Cape Fear black Harrts 73
The CQS Allstars hit the road Saturday to take on the WFTDA Cape Fear Rollergirls. The Allstar bout started out as a tight match, but as soon as CQS took the lead, Cape Fear found themselves unable to regain their footing. The CQS Allstars have had a tough season thus far. With their new acceptance into the WFTDA, the Allstars have not played as fluidly as they have in the past. This game proved to be a turnaround bout. The Allstars functioned as a solid team assisting their jammer through the pack while simultaneously holding Cape Fear's jammer back. Although the game Saturday was riddled with penalites from both sides, the Allstars had a steady successful run of jammer strength and speed. Former jammer Leighthal debuted in her first away bout as a hipchecking Allstar.
The Miss B-havers took the floor first for a win over the Cape Fear Black Harrts. Palmetto Rollergirls Scream Weaver, Malice, Kat Von Kill, and Punk Blocker were added to the Black Harrts' roster and proved to be a challenge for the Miss B-haver veterans. The Miss B-havers welcomed new additions Poison Violet and Creecher (a former Palmetto Rollergirls, herself), as well as, former blocker Dani Dynamite. Although the penalities were high, the Miss B-havers maintained tight control over the speed of the pack allowing Barney Rebel, AmsterDAM, and Rabbit Punch to rack up enough points to secure another win for the season.
Thanks to Cape Fear for welcoming us in their homes! You girls are truly a pleasure to play with! Join us May 19th for our next home bout!