Columbia QuadSquad Rollergirls Joins Women's Flat Track Derby Association
Columbia, SC—March 12, 2012— The Women's Flat Track Derby Association (WFTDA) is proud to announce that Columbia QuadSquad Rollergirls has been accepted as a member of the WFTDA, the national governing body for women's amateur flat track roller derby in the U.S.
As a new member of the WFTDA, CQS joins the ranks of over 75 all-female, skater owned and operated leagues nationwide that have united to lead the growing sport of women's flat track roller derby. WFTDA member leagues engage in sanctioned interleague play, including regional and national tournaments. CQS will be a Class B member in the east region.
Founded in 2004, the WFTDA promotes and fosters the sport of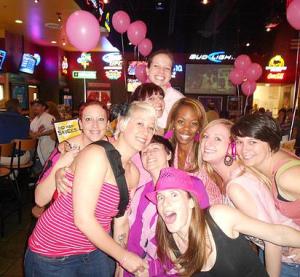 women's flat track derby by facilitating the development of athletic ability, sportswomanship, and goodwill among member leagues. The governing philosophy is "by the skaters, for the skaters." Women skaters are primary owners, managers, and operators of each member league and of the association. WFTDA's operational tasks include setting standards for rules, seasons and safety, and determining guidelines for the national and international athletic competitions of member leagues. All member leagues have a voice in the decision-making process, and agree to comply with the governing body's policies. For more information, visit http://www.wftda.com.
About Columbia QuadSquad Rollergirls
The Columbia Quadsquad Rollergirls are a skater-governed all-female flat track roller derby league based in Columbia, South Carolina. Our mission is to promote sportswomanship, female empowerment and community consciousness through activities, events and charity involvement. The Columbia Quadsquad is also a 501(c)(4) non-profit organization.​